The first issue of M/E/A/N/I/N/G: A Journal of Contemporary Art Issues, was published in December 1986. M/E/A/N/I/N/G is a collaboration between two artists, Susan Bee and Mira Schor, both painters with expanded interests in writing and politics, and an extended community of artists, art critics, historians, theorists, and poets, whom we sought to engage in discourse and to give a voice to.
For our 30th anniversary and final issue, we have asked some long-time contributors and some new friends to create images and write about where they place meaning today. As ever, we have encouraged artists and writers to feel free to speak to the concerns that have the most meaning to them right now.
Every other day from December 5 until we are done, a grouping of contributions will appear on A Year of Positive Thinking. We invite you to live through this time with all of us in a spirit of impromptu improvisation and passionate care for our futures.
Susan Bee and Mira Schor
*
Rit Premnath: The Day After
Dear 72% of non-college educated white men
Thank you for your overwhelming enthusiasm
I was following the polls
trace a mirrored line
dipping and rising
in anticipation
But when you filled your circle
the statistician's needle shivered
You were the butt of our jokes
and we'd all but forgotten you
Now the clown has returned
shouting his white rage
With the tongue of a troll
Dear 62% of non-college educated white women
Thank you for tossing a grenade in our basement
My ears are still ringing from the aftershock
and I'm empty and sad
Like there's been a death in the family
Dear 37% of white people
and 74% of non-whites
This morning the city was silent
and in the subway
we couldn't bear to look at each other
I met a friend for breakfast
and we talked about this agnosia
How everything is exactly the same
but unrecognizable
cheaply built on closer inspection
like Mar-a-Lago
Dear overeducated friends
Thank you for your persistent paranoia
As you know well, the present is always Kali Yuga
The last phase of the crumbling cosmic order
The bull of dharma has lost three legs
and teeters precariously
hopping one-legged from calamity to calamity
Our angel of history zigzags
For you nothing is good enough
Until something is much worse
And even then you blame the foreclosed possibility
of that which will have been
Dear friends of various demographic categories
Thank you for being here tonight
I can't speak for you,
but my emptiness is like a vacuum
that sucks all things into its gloom
I think we were silent because we recognized it
It has always been there
A hole at the center
We were talking yesterday
About how the art world is not for us
That we have always sensed an emptiness at its core
But we play along and service its white walls
fighting one another for its fleeting attention
Afraid that we have already invested too much
Afraid that we will disappear if we withdraw
Afraid that withdrawal is shameful
Ashamed that our politics rarely extends to action
Confused about who the objects of our politics should be
But as the ground cracks beneath our feet
we suddenly feel an orientation
A sense of possibility in this quickly widening trench
Dear teachers
Yesterday we realized that we knew nothing
Or at least that we must actively unlearn the knowledge
that has stopped us from knowing
We were silent because we were ashamed
that we didn't even know each other
We said we must work together
But knew right away that the "we" we were talking about
is an idea that cannot be learnt
But must be made
And that none of us has the time to make it
I feel a sense of urgency
that this is a call to action
That we must try to capture and hold that feeling
of the moment before we fall when our knees have begun to buckle
Or the moment right after
When the force of gravity orients us
but we have not yet fallen
That feeling we felt the first night and the morning after
The soundlessness of that night
and the hum in our ears searching
A silence enveloped in a distant ringing
Every sound in its inverse, a listening
An ear for the mouthless
A being-with that is a listening and looking
Unlearning as directed possibility
A sensory orientation that stops the shuddering needle
We must make a new time of being-with
A time of learning through unlearning
And reorient this era post truth
Towards its looking-for
Towards its becoming by being-with
*
"Chorten, Mani and Lapche are three kinds of sacred structures built with rocks that are found throughout the region of Humla in Northwestern Nepal and Southern Tibet. …Lapche, the third and simplest category are cairns–simple rock mounds that any passerby may add to. … Lapche are an accretion of nows that are each embodied in the intentional selection and placement of a rock….Unlike villages or monasteries that serve as destinations for a traveler, Lapche are always in between or at the threshold of such places. They are polychronic nodes that mark non-sites en-route to somewhere."
"Rocks map scales of geological time that vastly exceed human time and indeed precede the very existence of humans and our conception of time. We are fascinated with things that exceed our ability to grasp, and so we literally grasp them, hold and touch them, to fill them with meaning and make them ours."
(Photo and text excerpts from Premnath, "The Chronotopography of Mountains" courtesy Sreshta Rit Premnath, 2016)
Sreshta Rit Premnath is an Indian-born artist who works across multiple media, investigating systems of representation and reflecting on the process by which images become icons and events become history. Premnath is the editor of Shifter and teaches at Parsons.
*


Beverly Naidus: Holding On
I'm out of breath, running down the sidewalk in a foul-smelling, factory town in Maine. My dad works at the plastics factory, as a research chemist, putting dead leaves, textiles and flowers in between sheets of acrylic to create new decorative plastics for home design – very 1950s. He's grateful to have a job. He's been blacklisted.
At that moment, I don't know any of this. I only know that the air stinks, neighborhood kids are chasing me and I don't know why. I am four years old, with dark, curly hair and olive skin. I look quite different from the locals. I am being pelted with grapes. They shout and then chant an unfamiliar expression at me, "DIRTY LITTLE KIKE." It fills my ears like intractable glue that no anti-adhesive can remove.
Is that when I awoke? Perhaps. It was certainly one of the first seeds of awakening. I was being raised to assimilate, and the lesson that day was this: It's not the difference that marks you. It's the response of others to that difference.
I have learned that lesson repeatedly over the years. As the McCarthy Era drew to a close, my New Yorker parents, both children of immigrants, moved us closer to NYC, thinking we would all be more at home there; it did not help. Our new town had been the center of the New Jersey Nazi party during the 1930s. I don't think my parents knew this. They were assimilating, and chose to live in a non-Jewish part of town deliberately. Trouble was, a few of the neighbors were unhappy with this choice and made their displeasure known.
I felt the pressure to fit in. I sang solos in the Christmas choir at school, read the Bible secretly in bed, joined the Brownies and attempted to straighten my hair. Somehow all these attempts to be accepted fell short, and this failure came with a sticky residue of shame. That I couldn't pass was my fault. I grew wary. I began to identify with outsiders and oddballs. I began to write poetry and draw weird surreal images searching for a way out.
Thankfully there was an exit door with a neon sign that said "LIBERATION THIS WAY." I came of age in the late 60s. Although the complex counterculture was not necessarily a place to find easy comfort, it offered an alternative to suffocating and destructive conformity. I found safety and acceptance among feminists, queer friends, activists, artists, mystics and communities of color. All residues of dissonance between the dominant culture and my new havens of solidarity went into my creative work. Years later, as I expanded into teaching what I had learned as an artist, I began to offer similar refuge for my students to tell their stories of shame, otherness, trauma and alienation. That, combined with some media literacy and anti-oppression training, became a standard recipe for shifting or strengthening values. I saw and still see the trajectory of my work as something expansive; eventually subverting the dominant culture and replacing it with a world where difference will be celebrated and where equity and fairness will be the norm.
But I am not a Pollyanna who thought the bullies had gone away. The daily brutality of ongoing white supremacy, homophobia, patriarchy, and corporate capitalism has been ever present and the manipulations of fear & economics have created an ongoing apocalypse for many.
Two nights ago, in response to the latest assault (our recent election), we attended a community meeting in a local church in our new hometown of Tacoma, WA. that was advertised with the appropriate name, "What Now?" Organized by the facilitators of the local Anarchist Discount Center (an online "buy nothing" group), they packed the room with eager, depressed, passionate, enraged, mostly younger, seemingly white folks. We made extensive lists of what concerns us the most; the panic almost bubbled over as each new item was added to the list. Small groups discussed strategies for resistance, solidarity, educating those who are feeling lost and vulnerable. It was a beginning.
Some people describe this bizarre post-election moment like a waking nightmare, like we are in suspended animation waiting for fascism to start. But those of us who have identified as activists for decades, once we have shaken off the disgust and frustration, have noticed an expanding cohort of awakening folks. It's essential that we share our tools for processing the daily trauma and insanity, and get grounded for the long haul. Our work will likely be much harder now, but with more imaginations and muscles joining the cause, who knows what will happen. We'll have to hold on to each other lovingly during this bumpy ride.
Beverly Naidus has been subverting within academia, museums and public space for most of her adult life. She likes to stir things up via art, writing, face-to-face improvisations, online interventions and within contexts where difficult questions can be raised, vulnerable stories can be shared and connections can be made. For more about her work and pedagogy go to her website.
*
Christen Clifford: Instagram posts from @cd_clifford November 11 & 14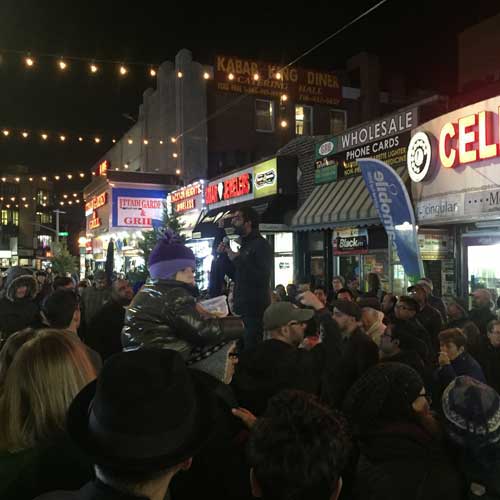 Nov11
So grateful that our Jackson Heights and Flushing city councilman #DannyDromm voiced his resistance and his commitment to holding our legislature and government accountable. This was #queensrally for unity and diversity in #diversityplaza . Those "Let's wait and see what he does" opinions—um, NO. He told us who he is. I have been thinking about the argument that "Some took him literally but not seriously, others took him seriously but not literally"  in relation to the capitulation of places like HuffPo and People magazine—taking off the warning about DT and the lavish photo spread of Ivanka's family, respectively. This is not normal. I refuse to normalize this. I have been thinking about the connections between rape and war, about the very real #ptsd and #retraumatization happening for many people. I have been rereading Trauma and Recovery by Judith Herman. I numbed out with Ativan for a few days. I understood why after picking up T&R and reading about "CONSTRICTION—a state of surrender where….the system of self-defense shuts down entirely." Thinking about how Tuesday night was such a shock it was like an ambush. I didn't see it coming. The surprise attack makes me remember "Oh, it's Veteran's Day" and my dad fought in WWII and he was at The Battle of the Bulge which was a famous surprise attack. Sortie. Invasion. Thinking how grabbing a woman by the pussy or groping someone on the subway is the new lying in the long grasses with a rifle all night long. Thinking about invasions of personal space, even the forced laugh and endurance of a hand that lingers a little too long, though no one else might notice it. And rape, forced intimacy, as a weapon of war. I felt crazy on Tuesday night <x-apple-data-detectors://11> . I thought the #silverlining of DT was exposing #rapeculture and I was completely ready to have our American society finally take #sexualassault survivors seriously- to listen and believe women. I was ready for a woman to be in charge so I wouldn't feel like it was all in my head. We need more women in office. And then the rapist is elected. As if he's my rapist. "Trauma isolates, the group recreates." #strongertogether Some of my students fear for their safety. This is not normal. #TheResistance
Nov 14
#supermoon tonight. #lenorachampagne and I walked to see the super of our building who is in the hospital. He had a stroke. The nurse said his left side needed massage to get the blood flowing so I massaged his legs. I never thought I'd be that intimate with him but I know the healing power of touch and I grew up massaging my mom's legs and feet so it felt normal to me. It was the first time I've been in a hospital for someone other than myself and I walked out thinking that I am doing really well right now and #fuckcancer like just fuck it and I just have to be in the present and enjoy my anger and take care of my anxiety. I have repeated to myself "Two steps forward, one step back." But I know that doesn't help the brown boys I know. Later we went on the roof and I tried to bathe in the magical power of the moon being so close #tommurrin s #lunamacaroona In my mind I am naked swimming in a lake bathing in the moon's reflection drinking in some form of pureness that would protect those brown boys and girls. I talked to the kids about being an #upstander then obsessed over the NY Times weird letter to readers- are they capitulating or doubling down? Feel deep in my heart I can't normalize this fascist elect but small good deeds helped. Walking, cooking, neighboring. Still thinking about feelings—how good it felt to think that HRC saw my issues and how good it feels to "other" someone else. Like middle school. Most of us grow out of it, right? We are all together under this big fucking moon, whether we like it or not.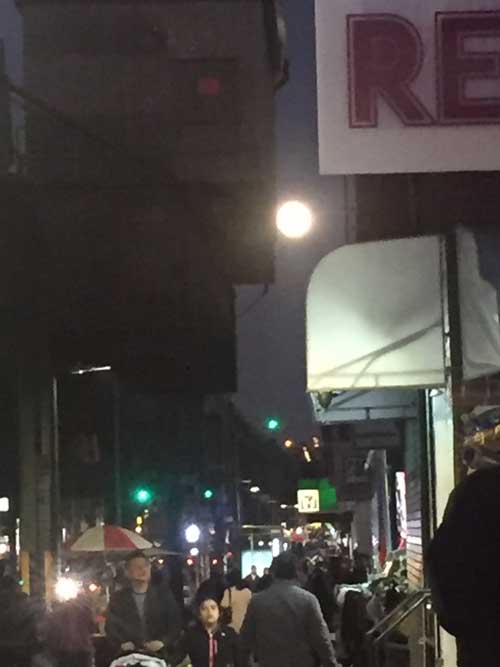 *These texts were originally published to Instagram @cd_clifford and then automatically posted to Facebook and Twitter.
Christen Clifford is a feminist performance artist, writer, curator at Dixon Place, mother and teaches at The New School. She is a core member of The No Wave Performance Task Force and the creator of The Pussy Bow, a feminist action disguised as a fashion accessory. She lives in Queens and online @cd_clifford
*
Shirley Kaneda
Sadly, not only did we not see the first woman to be the President of the most powerful country in the free world, but we are also now faced with grave concerns of civil liberty brought on by the ultra conservative agenda of Trump and his coterie of advisors who blatantly support white male supremacy. Their reactionary views on everything from free trade which greatly aids the world's poorest people, advancement of minorities, women's reproductive rights, gun control, and least of all economic disparity can now be set back decades.
53% of white women voted for Trump. Even if traditional feminism may not be attractive to some women, it would seem to be a no-brainer to elect an eminently qualified woman candidate to a hate inspiring incompetent racist and sexist buffoon in 2016. Evidently, these white women put race over advancing the status of women at the expense of domination over liberation. At least, being white gives them the perception that they have power over everyone who is not.
I recently saw a video of a debate between James Baldwin and William F. Buckley that was held at Cambridge Union Society, Cambridge University in 1965. The topic was "The American Dream at the Expense of the American Negro." Almost the entire audience except for a few blacks here and there was white. Baldwin was already a well-established writer and civil rights activist and Buckley was a young editor and founder of the conservative National Review. Baldwin was riveting. The exchange could not have been better made as a movie. Baldwin's passionate, articulate oppression of American blacks was so intelligent, deft and moving that he received a standing ovation by the young audience when he finished. Buckley on the other hand resorted to attempting to strip Baldwin of respect by commenting that it was curious that Baldwin all of sudden spoke with a British accent. He did no such thing of course, but it is the white's position to paint blacks as the barbaric "other" and incapable of becoming civilized. In the end the Society took a vote on the proposition and Baldwin won by 540-160 on the issue of "The American Dream at the Expense of the American Negro."
Evidently the mostly white audience of this debate in 1965 was far more progressive than the 51% of Americans who elected Trump in 2016. The issue of the economy and the diminishing middle class were certainly factors in this election, but they are inextricably tied to the not so latent issue of race easily promoted by Trump's embrace of xenophobia.
How do we break this cycle of bigotry and oppression? First we must divest ourselves from the notion of "other." From my perspective, the mutual respect for difference must extend to oneself. The other must not be an extension of the notion of tolerance and non-judgment. It may be confusing to think of the dominant – subordinate relationship and the notion of other which were possibly and probably progressive at one time, but now must be disposed for no other reason than the fact that it is archaic and counter-productive. The concept of the other has to be abandoned and absorbed so it can produce independence. The other is now revealed as a myth that signifies anything that is not "I" and which does nothing to alter the dynamic of power.
Shirley Kaneda is an abstract painter, contributing editor to Bomb Magazine and a Professor at Pratt Institute.
The video that Kaneda refers to of the 1965 debate between James Baldwin v. William F. Buckley Jr. at Cambridge University on the question: "Is the American Dream at the expense of the American Negro?" can be viewed here.

*
William Villalongo
My figures toil between various histories and an endless natural world conscious of painting as their condition of being. These new works meditate on the Black male presence in society as a figure shifting in out of visibility. It is a post-human existence in which the form disperses and recollects in various form like fallen autumn leaves, more subject to the conditions of nature than individual will. Yet, like nature it has the power of regeneration held within the substance of its decay. "Hands up" and "hoodies" become symbols of resistance as well as the figurative elements associated with body language.
William Villalongo lives and works in Brooklyn, NY. Villalongo is the recipient of the Louis Comfort Tiffany Award and the Joan Mitchell Foundation Painters & Sculptor's Grant. Villalongo is currently represented by Susan Inglett Gallery.
***
Further installments of M/E/A/N/I/N/G: The Final Issue on A Year of Positive Thinking will appear here every other day. Contributors will include Alexandria Smith, Altoon Sultan, Ann McCoy, Aziz+Cucher, Aviva Rahmani, Bailey Doogan, Bradley Rubenstein, Deborah Kass, Erica Hunt, Faith Wilding, Hermine Ford, Jennifer Bartlett, Jenny Perlin, Johanna Drucker, Joseph Nechvatal, Joy Garnett and Bill Jones, Joyce Kozloff, Judith Linhares, Kat Griefen, Kate Gilmore, Legacy Russell, Lenore Malen, LigoranoReeese, Mary Garrard, Martha Wilson, Maureen Connor, Michelle Jaffé, Mimi Gross, Myrel Chernick, Noah Dillon, Noah Fischer, Peter Rostovsky, LigoranoReese, Rachel Owens, Robert C. Morgan, Robin Mitchell, Roger Denson,  Sheila Pepe, Susanna Heller, Suzy Spence, Tamara Gonzalez and Chris Martin, Susan Bee, Mira Schor, and more. If you are interested in this series and don't want to miss any of it, please subscribe to A Year of Positive Thinking during this period, by clicking on subscribe at the upper right of the blog online, making sure to verify your email when prompted.
M/E/A/N/I/N/G: A History
We published 20 print issues biannually over ten years from 1986-1996. In 2000, M/E/A/N/I/N/G: An Anthology of Artists' Writings, Theory, and Criticism was published by Duke University Press. In 2002 we began to publish M/E/A/N/I/N/G Online and have published six online issues. Issue #6 is a link to the digital reissue of all of the original twenty hard copy issues of the journal. The M/E/A/N/I/N/G archive from 1986 to 2002 is in the collection of the Beinecke Library at Yale University.