Today would have been my sister's Naomi Schor's 68th birthday. She died suddenly about three months after her 58th birthday and it's part of the strange nature of mourning that even now, after ten years, the period between the two anniversaries is for me a kind of private Via Dolorosa, an emotional undercurrent that can, even unknown to oneself, trap the speed of the everyday in a slow-moving river of mud. I woke up this morning and felt I needed to mark her birthday. I hope my readers will bear with me–there is historical material of some curiosity here, beyond the personal.
My sister was beautiful, brilliant in a thorough, deeply studious and comprehensive way; she was a strong presence, sometimes seemingly aloof, yet also dramatic–when she entered a room you knew she was there–passionate, very social, devoted to her field of work, curious about art, culture, and politics, a lover of travel, an inspiring teacher,  a great but demanding friend, a great letter writer, yet also with a dark cast to her persona which, in later years, after tragedy and dramatic illness, sometimes turned to corrosive depression. She was my older sister and I worshiped her and was also fiercely competitive with her, something she found difficult when I strayed into her territory (it was bad enough I was an artist, the family profession, but then I also had to be as good a student in the school we both attended and then I started to write!). She was also incredibly supportive. I owe many important developments in my life directly to her, including where I went to graduate school and how I got to publish my first book. Since her death I have found it much harder to write about her than to write about our parents. In some way that inability on my part has replicated something she found very painful, that she was the only person in the family who was not a visual artist, so she could not "show and tell" what she did. She felt that her scholarship was not immediately accessible. Even I am intimidated by it although our ideas were similar in many respects, which isn't surprising of course, nevertheless I have felt inadequate to write about her intellectual work. But I have inherited her collection of ephemera, the magazines and photos she collected and kept with her–a copy of Paris-Match from the 1950s with her screen idol Gerard Philippe on the cover, the New York Times from the day Robert F. Kennedy died, the first issue of Ms. magazine– and I feel that through these traces I can begin to write if not directly to her work, around it to reconstruct for myself and for others some of what she was and the historical moments she inhabited.
In my new studio is her antique glass-door cabinet whose four shelves were filled with all the books she wrote, edited, and had writings published in (by eliminating duplicates, I've managed to keep her full oeuvre intact while making room for one shelf of my writings!). She was a noted literary theorist and scholar. Her initial academic field was Nineteenth Century French literature and from the early 1970s she was one of the pioneers of feminist theory in the United States. She spent a lot of time in Paris in the late 1960s and the 1970s and brought her first hand knowledge of Jacques Lacan, Luce Irigaray, and Jacques Derrida to her scholarship and teaching, at Columbia University, later at Brown University, Duke, Harvard and Yale. Among books such as Flaubert and Postmodernism, which she co-edited,  Feminist Interpretations of G. W. F. Hegel which includes "Hegel's Aesthetics and the Feminine," a chapter of my sister's most noted book, Reading in Detail: Aesthetics and the Feminine, Engaging with Irigaray which she co-edited, and The Essential Difference, a differences book with she co-edited with Elizabeth Weed, and many other scholarly tomes, I found a copy of Glamour magazine from January 1971.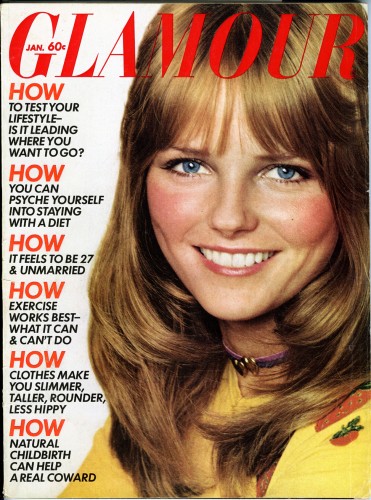 What was this faded woman's magazine doing among my sister's scholarly books? Clearly she had kept this and placed it among her bibliography, and moved it the many time she moved. It took me a couple of examinations before I found this letter tucked into a page spread: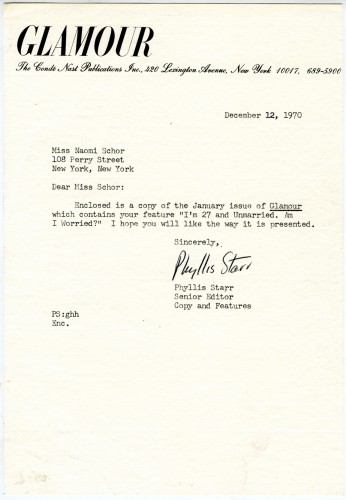 At the time my sister was in a consciousness-raising group in New York where she was a young faculty member in the French Department at Columbia University. She introduced me to feminism and was instrumental in my applying to CalArts where her friend Sheila Levrant de Bretteville was beginning a Feminist Design Program. I went to CalArts later in 1971, where I became involved in the Feminist Art Program.
My sister was also boy-crazy, to the point that her fellow feminists would comment on it with humor, and that I would sometimes remind her that just because one of her areas of expertise was the representation of women in the Nineteenth-century novel didn't mean she had to live her life like Madame Bovary or Anna Karenina, passionate to a fault.
"I'm 27 and Unmarried. Am I worried?" My sister's response was "Sometimes."