You walk into the room
With your pencil in your hand
You see somebody naked
And you say, "Who is that man?"
The thrill of opening the door of a gallery and immediately seeing a masterpiece. Just hanging there. No fuss. The thrill begins at the threshold, you are not fully into the room but the painting already fills your field of vision and the disruption between the elegant quiet street you are stepping in from to the drama depicted in the painting, performed by the painting, happens in a flash.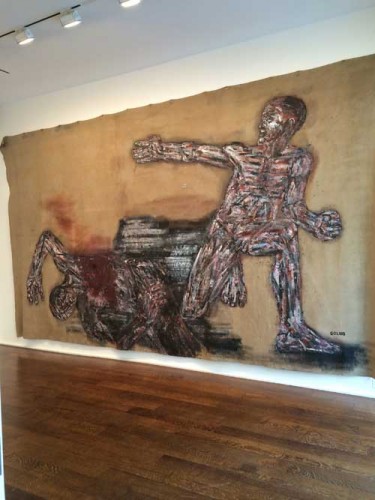 In the room, the painting representing two men, naked, one living, perhaps victorious, the other mortally wounded, his guts spilling into a dried caked pool of cadmium red deep or caput mortem paint.
Victor and vanquished are both flayed to the bone by the complex violent painting technique of the artist, abstract strokes construct the figures and atomize their surface at the same time. The faces are in a rictus of pain and emotion, they show their teeth.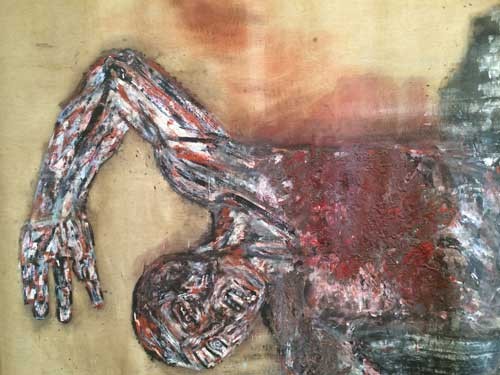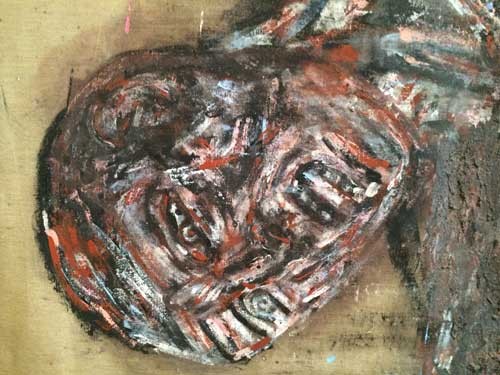 The teeth provoke a violent interruption in the viewing, an angry thought: Fuck you if you don't get it or think it's overly emotive.
Why does that defensive/combative thought occur? Because Leon Golub was a widely known and respected artist and yet often found himself in a contested situation, his incredibly impressive vitae belied by anecdotal knowledge of disrespectful treatment of him and his work to the end of his life and by review of some important American museum permanent collections and exhibition records. Paranoid imagination? Well, let's take as a current case in point, "Raw War," the chapter of the Whitney Museum's current inaugural exhibition, America is Hard to See, of work dedicated to the Anti-War movement in the United States. Where is Leon Golub? The museum's collection does include one Vietnam era war-related drawing by Golub. And where is Nancy Spero in the same installation? It's hard to see how you can not include them in that specific context. They were pivotal figures in the anti-war movement within the art community in New York. So why?
There is strong emotion in Napalm 1, from 1969.It is an overdetermined scene. One could call this work expressionistic though Golub relied on appropriative methods: this painting among others from this time period is influenced by ancient Greek sculpture, as well as based on Golub's extensive archival files of war imagery from which he worked–a fond memory of Leon sitting on a little stool in his studio cheerfully cutting clippings from all kinds of magazines sources including magazines for mercenary soldiers  like Soldier of Fortune–a current code word for a certain kind of academia-supported art is Research, much maligned because of its occasionally proscriptive aesthetic ideology, but what Leon was doing was research also, research is not reserved to any one type of artist or mode of artmaking.
(note for my subscribers that receive this post in an email, you will not be able to see this video in your email program, you must watch on YouTube or on my blog online).
The painterly style also emerges from expressionist painting movements of the time, including CoBrA Group and Art Informel, important movements in art in Europe near the time Golub lived in Paris, and abstract expressionism lurks in the strokes and the scrapes too. Golub is a painter. He is a political painter, consciously so. He strives for the heroic, via the anti-heroic, but irony is not his calling card and materiality, flayed scumbled paint on unstretched raw linen, is the embodied expression of his moral vision of the world. His sources are often photographic, but the body of marble aged by millennia, of paint applied expressionistically in action painting, are the means of communication. He is our Delacroix, our Gericault, our Courbet, not our Duchamp, our Warhol, or Koons, nor even our Haacke, but we have preferred to honor the artists who it is felt by some as having fulfilled the narrative of institutional critique, commodity culture, new imaging technologies. Despite everything that has happened since abstract expressionism, we still seem to be in a Greenbergian revolt against the political in painting, especially if it takes place within the language of abstract expressionism, of old fashioned painting. This gets close perhaps to the source of the curious case of Leon Golub, famous and honored yet not honored as he should be in his native land. End of diatribe.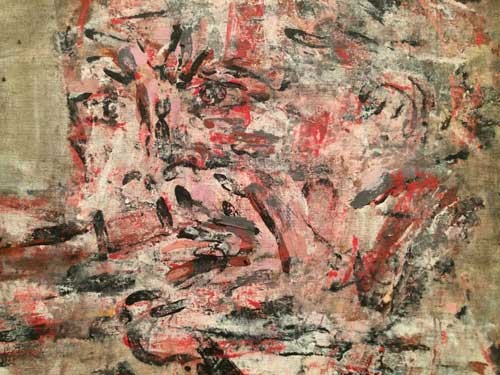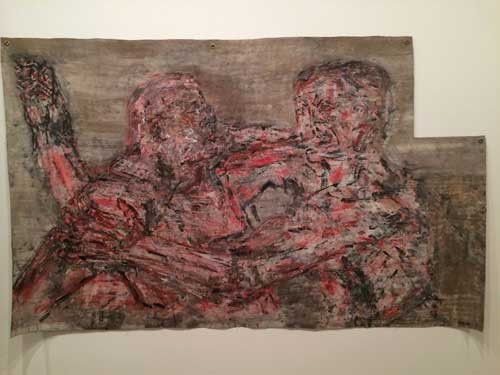 Upstairs two men fight to the death in Le Combat VII (1963). They are barely delineated. The painting is a delicate haze of shattered pink flesh. Pink is the color of femininity and delicacy and of shattered flesh. Golub is the IED, the improvised explosive device. The painting's edge is peeling from the device meant to hold it to the wall: it is a contingency in the exposition of a contingent art work. Golub's canvases are tough, resilient, but also unprotected by standard methods of support for painting. The peeling corner may provide a bit more information than the gallery would wish, but its revelation of the work's contingency means something, it provides an intimacy with the artist and the work even if he isn't there to fix it himself.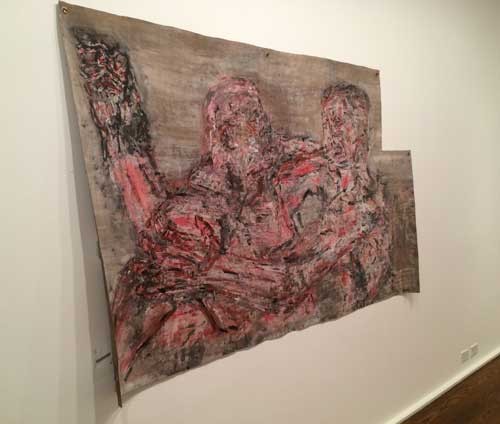 In the next room, a larger than life-size figure crawls along the wall. This is a figure with barely any ground to speak of except the gallery wall and our space, the one we the viewers occupy. A Fallen Warrior (1968), he is on his knees, injured, barely alive but, slightly larger than we are, he is also monumental.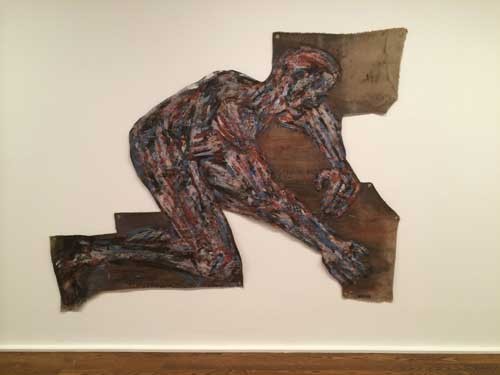 Upstairs in a room suffused with daylight are some of Golub's small works on paper, many of these works from near the end of his life. They are almost undefined in some cases, delicate but also defiant, infused with gallows humor.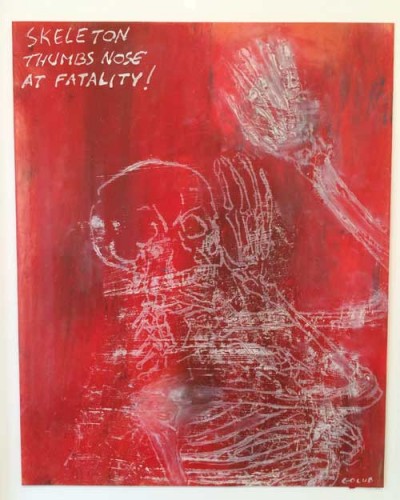 They are also youthful and gleefully sexual,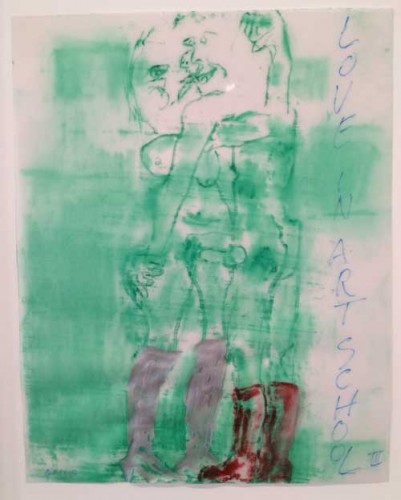 For a while the title of this blog post shifted from A Necessary Man to a fragment of Bob Dylan's "My Back Pages," "Ah, but I was so much older then/I'm younger than that now," because really, how would you know the age of the artist from this work. I reverted to "A Necessary Man" because in the years since he died Golub's absence is actively missed by anyone who knew his work and his political activism.
On the way out, Napalm 1 is seen again, near the plate glass front window of the gallery. Interesting that Hauser & Wirth chose to place Golub's sometimes large rough skinned works into its extremely refined Upper East side townhouse sized room, a gallery large through accretion of rooms and floors but not incomprehensibly humongous like their downtown space. This in the scale that early large scale abstract expressionist era paintings were intended to function in, where a large though not enormous artwork could dominate the space and fill the viewer's field of vision. The work is not forced to inflate itself to compete with the space while crushing the viewers humanity in the process.
These combatants ask us, What is victory in a war? One is dead or mortally injured but both are naked, both have the flayed flesh characteristic of Golub's work.
I wanted to take a picture of this work seen from the street, to imagine the impact on passersby walking their miniature poodles or going to lunch, but reflection renders the painting invisible. They would only see themselves. One has to open the door and walk over the threshold into the room to have the experience.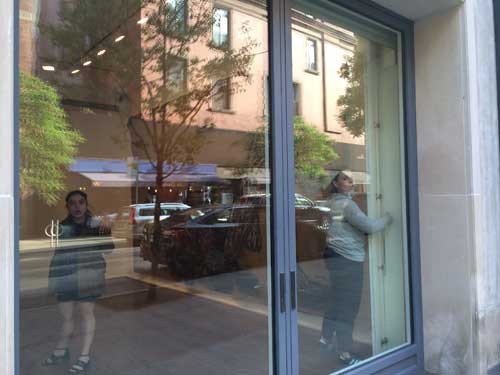 Leon Golub: Riot at Hauser & Wirth, 32 East 69th Street, New York NY 10021
Tuesday – Saturday, 10 am – 6 pm , through June 20, 2015