A Year of Positive Thinking is a cheerful postscript to my recently published book of essays on art, culture and politics, A Decade of Negative Thinking: Essays on Art, Politics, and Daily Life. In the introduction to that book I consider whether I am, as my title suggests, a negative thinker. In fact, when I've told people the title of my book, my favorite reaction has been a burst of laughter, an intuitively joyful recognition of the awfulness of some of what we have gone through whether in world politics or artworld excesses.
I do often write about artworks in a way that may appear negative because I perceive a political valence in critically and economically acclaimed works that no one else is writing about in that way. But I assert that practicing a kind of non-conformist criticality is a necessary and positive intervention into a press release-oriented field of art writing.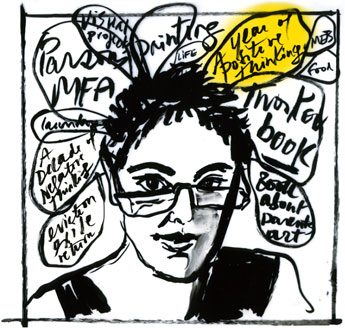 I speak out when I think other people are just drinking the Kool-Aid. I apply feminism's willingness to identify and critique power structures to wider fields of inquiry in the hope that at the very least what I can bring to contemporary culture is the ability to disbelieve. I assert the value of a grain of salt: a healthy dash of negativity about present appearances can't hurt.
But as I finished the decade of negative thinking, I could see the outlines of the "positive" criticism I could have written during the same time period. A Year of Positive Thinking poses the challenge to myself to find contemporary art that I love. I will also write about significant artworks, films, and political actions and speech from the near and the deep past that have given me the courage to become and continue to be an artist and an activist.
I do always stress that the artists I seem to write about "negatively" are all very interesting or instrumental to me. I learn as much from the art that I initially have a strong critical response to as I do from the art that I love. My art grows from my critical engagement with art that I may initially think is antithetical to my own practice but which spurs my work and opens permissions for significant change. I will continue this engagement here. I can't help myself. But my survival as an artist is equally based on the existence of works I love and that make me want to make art.
This blog will function as an expansion of what I've been doing on Facebook the past year, sharing links to things I think are beautiful, funny, moving, inspiring, while venting over various political issues that make me angry.
A Year of Positive Thinking may turn out to be a battleground between the two sides of my personality, something like Cassandra and Pollyanna! Cassandra tells truths no one wants to hear and Pollyanna actually does the same thing: she's not the sweet cloying character we think of when we use the name in a disparaging way, she looks right at what she sees in the dysfunctional little town she has come to live in and her engagement with the people she meets sets in motion positive change.
I'm excited to begin A Year of Positive Thinking and to see how it will grow over the next year. I invite my readers to stick with me to see what happens.
I would like to thank the Creative Capital/Warhol Foundation Arts Writers Grant for their generous support of this project.
Above: Self-Portrait, ink on Denril, 9 1/2″x 8 1/2," 2005, updated for this blog, 2010. I'm a painter and writer living in New York City. I published two books this past year, A Decade of Negative Thinking: Essays on Art, Politics, and Daily Life and The Extreme of the Middle: Writings of Jack Tworkov, which I edited. I'm responsible for the artistic legacy of my parents Ilya Schor and Resia Schor. I teach in the MFA Fine Arts Program at Parsons The New School for Design. I'm a Mets fan.
website by lotus+pixel