As we enter the dog days of August here's a little recap of some pleasures from the past few months that have stuck with me and that I'd love to share.
1.
This year is Orson Welles' centenary and in May Turner Classic Movies ran a weekly festival of Welles' films. I have seen almost all of them, multiple times in most cases, benefiting in my youth from the proximity of the New Yorker Cinema on the Upper West Side. Peter Bogdanovich ran a festival of Welles there sometimes in the late 60s I think, with interesting mimeographed handouts for each film: Welles' repertory theater, the Mercury Theatre players, the crazy plots and over the top or sloppy acting of films like Mr. Arkadin, the exaggerated post-War middle European displaced persons camp atmosphere, the camera shots and pacing, all of it is part of my artistic bedrock. So I was intrigued when late at night, May 27 after midnight I think, TCM ran the restored footage of Welles' first venture into film, Too Much Johnson, a silent movie meant to be used as vignette interludes within a play, a film project I had never heard of. In typical Welles fashion, the 10 reels of 35mm film disappeared and were said by Welles to have burned in a fire until they were rediscovered in a film warehouse in Italy  a few years ago and now have been restored. An introductory text by film historian Scott Simon can be found here; a long informative text on this film by Welles scholar Joseph McBride can be found here, and there are a number of versions of the film available online including the total footage here, and a reconstruction based on archival research of how the footage was intended to be used as part of a theater production here.
The minute the film started I knew I was a goner in terms of anything like a semi-reasonable bedtime since it ran into the middle of the night but I was captivated by the film and drawn into it also by the dreamy contemporary film score. Since the film is already anachronistic in its homage to silent film, it is interesting to have it also be anachronistic forward with a Philip Glass/Steve Reich like repetitive score. Unfortunately the versions available online have a piano based film score that is very much a pastiche of silent movie music accompaniment one is familiar with, which is serviceable but not distinctive. However one film clip on TCM does have the new score and is also an excellent glimpse of what makes the film so captivating: here is a link to the clip.
The film is a pastiche of the silent movies that Welles saw as a child, Buster Keaton, Harold Lloyd, Charlie Chaplin, with a deadpan hero contrasted by exaggerated stock theater pantomime acting (among many registers of acting in the ensemble cast), brisk and often surrealistic narratives, and palpably fake sets. It happens that I saw these movies as a child too, since my mother often took me to see silent comedies at MoMA.
In the early part of the film the lead character "Johnson" played by a debonair and fearlessly acrobatic Joseph Cotten is pursued through the streets and across the rooftops of Lower Manhattan by a jealous husband. At first the locations seem somehow staged, fake, but gradually you realize you're looking at the Woolworth Building and at the Meatpacking district and around the Highline, when it was a functional entity (it was built in 1934), sometimes completely empty, other times populated by regular people watching the goings on with amusement.
Minutes into the film I was struck, in fact I was kind of thunderstruck by the resemblance between the settings and the plain yet daring black and white cinematography in the film and the photographs from the same time period by Rudy Burckhardt, who had arrived in New York in 1935.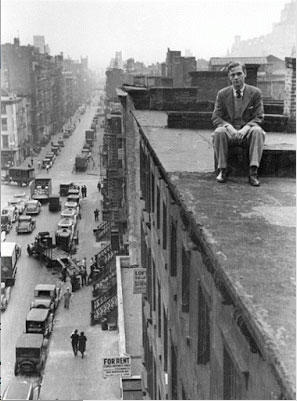 In fact I was so thunderstruck by the connection I felt between this film and Burckhardt's work that I abandoned the film to rush to my computer to research the relationship. The time frame and location was identical, and the New York avant-garde art, film, and theater worlds were relatively small compared to now so it was entirely plausible that Orson Welles and Rudy Burckhardt knew each other. They were very close in age and very young in the late 1930s, Burckhardt born April 6, 1914, Welles May 6, 1915. Not that every very talented person around the same age knows each other even in the smallest community. Still, there was something.
But instinctively I made a leap from the idea of Googling "Orson Welles Rudy Burckhardt" to instead Googling "Orson Welles Edwin Denby," that is, Burckhardt's close friend, the poet and dance critic Edwin Denby, and bingo!!: in 1936 Welles and Denby  collaborated on the Federal Theater Project production of "Horse Eats Hat,"(see here the picture of Edwin Denby as either the front or back end of the horse), a farce by French writer Eugene Labiche, staring Joseph Cotten. "Too Much Johnson" was a 1894 play by actor director William Gillette, based on another late 19th century French farce.
Too Much Johnson includes wonderful set pieces such as a rooftop chase seen in the clip above, a chase through a maze of fruit packing cases, and a subsequent sequence with Magrittean bowler hats that shares the anarchic energy of Surrealist films such as Louis Buñuel's 1930 film, L'Age d'Or. The acting is both parodic of early silent film and late 19th century theatrical melodrama, and ineffably hip and of the moment not just in the specific sense of the late 1930s but beyond that the kind of permanent "of the momentness" of any good work done with a youthful carefree improvisational spirit that remains young throughout time. The acting and directorial style at times veer into a stylized version of amateurish verve, when you get talented people who are game to do anything including things not in their area of expertise, harkening back to domestic amateur theatrical productions as described in Jane Austen and Louisa May Alcott novels among others, and yet a highly developed artistic instinct and discipline of composition, timing, and order prevail at the same time. In this, Too Much Johnson again reminded me of Edwin Denby and Rudy Buckhardt, in such film collaborations as Money, a 1968 film by Rudy Burckhardt (which I wrote about here).
Postscript August 2: All along I could have called Rudy Burckhardt's wife Yvonne Jacquette or his son Jacob Burckhardt to ask about the Orson/Rudy connection. When Jacob saw this post last night he wrote me that around the same time as Welles was making Too Much Johnson, Rudy made a movie called Seeing the World Part One: a visit to New York N.Y., in which Virginia Welles appears, with a now lost film score by composer and author Paul Bowles (I forgot to mention that originally Too Much Johnson was to have a score by Bowles, also now lost). In it, according to Jacob, "There is also a scene in a dark saloon, where two gangsters sit across the table from each other. One of them, played by Edwin, pulls a gun on the other. The other played by Joseph Cotten, pushes the gun aside and knocks him down (Cotten had recently had his first starring role in Welles and Denby's "Horse Eats Hat"). Rudy told me that the scene was originally supposed to be between Orson and Joseph, but since Orson didn't show up, Edwin stood in." Which answers more than the limited question of whether Orson knew Rudy and his work: they did know each other. More, it turns out that for at least a brief moment they were both in their early twenties and very talented in New York at the same time, with shared friends and shared collaborators, interested and cross-influenced by similar histories–a vivid example of how art comes out of fertile communities where worldly success may arrive for different figures at different times in different ways, or not at all, but where everyone is essential to the mix in an unmarked way which is hard to replicate and which is obscured by celebrity culture.
2.
In working in the mode of silent film, Welles was looking back to his own childhood experiences with silent film as film, that is, as what film was when he was a child and he was emulating the sui generis pioneer actor/director geniuses of that time period, Harold Lloyd, to whom the rooftop chase scene is indebted, Buster Keaton, and Charlie Chaplin.
Which leads me to another wonderful film viewing experience from earlier this winter which I highly recommend: The Chaplin Puzzle, a 1992 documentary film which follows Charlie Chaplin's early development, his artistic evolution during his first two years in Hollywood, in his Keystone and Essanay period, from 1914 to 1916. It is a fascinating view of how an artist creates himself and refines his craft. I was particularly interested in relation to my experience of young artists today working in video who often do one simple thing and then ponder it for months, or young filmmakers who struggle with fundraising even for small projects they film on iPhones and produce themselves: during this period Chaplin turned out about one film a week and was able to gauge the success of his character from audience reaction while learning for himself what worked in film formally and technically.
3.
Finally I want to encourage anyone who's in New York this summer to see George Ohr Pottery: "No Two Alike," which is at Craig F. Starr Gallery through August 14. I have a particular soft spot for pottery, it brings together materiality and color, qualities I appreciate in painting: that something is a thing and yet  can glow with color. I often visit the American Wing at the Metropolitan to look at their installation of early American pottery; just give me an early American earthware pot pot with slip decorated in earth tones and it's like a ray of sunshine.
The George Ohr exhibition is a wonderfully curated show, which contrasts unglazed works by the American ceramic artist of the post Civil War / early 20th century period with some of his more finished glazed works, the front room containing the raw clay works, the back room with a spectacular installation of glazed works, with one juxtaposition of each kind in the middle office space creating a bridge between the two parts of the exhibition. The pieces range from works that fit into established forms of art pottery of the period to works that are experimental, immediate, delicate, modern in their formlessness.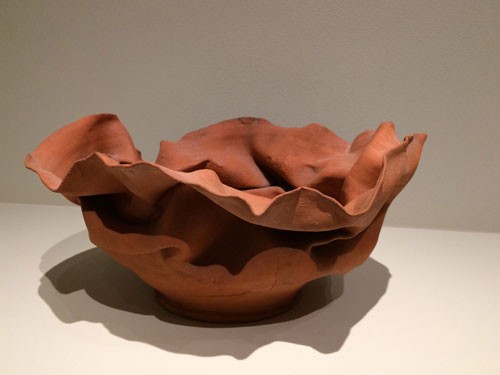 Except for these two pieces juxtaposed on a little shelf in the middle room, to compare the effect of the unglazed and the glazed you have to run back and forth between the rooms, or, rather, walk quietly given the fragility of the objects, and it hard to chose–a contemporary aesthetic tips one towards the unglazed, but for me the gleam of a colored glaze is kind of divine, pleasurable and unknowable at the time.
*
On another positive note, I was recently interviewed by Berlin-based curator, art critic, and educator An Paenhuysen about A Year of Positive Thinking. I responded to four questions, about the art scene I might belong to, about the blog itself, about my background, and about money–whether or how I monetize the blog, directly or indirectly–always an important question. The interview appears here.