This month's Critic's Page section of The Brooklyn Rail is organized and introduced by artist and educator Ann McCoy. In her words from her introduction "Wellsprings Reconsidered," it presents "a long overdue re-examination of the role of the unconscious in art making." This subject seems very timely, and the contributions include very interesting texts and images. I am delighted to be included. Because the communities of The Brooklyn Rail, A Year of Positive Thinking's subscribers and readers, and the Facebook community don't overlap as perfectly as might seem likely, here is the direct link to my contribution, "The Warp and The Woof."
In my text I refer to four works. Two are reproduced in the Rail. Here are all the works referred to, beginning to the first two works or series of works referred to, which are not reproduced in the issue.
The first, The Two Miras, is part of a group of gouache on paper works from 1972-1973 that I called "Story Paintings," a number of which were done based on dreams, including this one, according to what friends remember my saying at the time. Each painting was on Arches paper, 22″ x 30."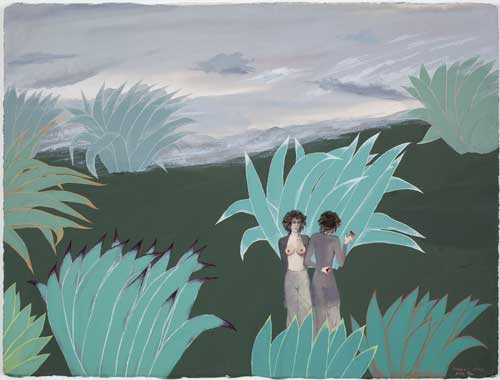 The second instance is from Dreams, a series of works done in 1977-1978, ink and mixed media on rice paper, each was about 18″ x 29," worked from front and back so that they are two sided works. Each presents the text of a dream written in black ink, with my analysis of it written with a different pen in sepia ink. Here are two such works, including a detail of the second piece. The first one, directly below will be included in "Four Figures," a group exhibition curated by Tom Knechtel at Marc Selwyn Fine Art opening  in early July in Los Angeles.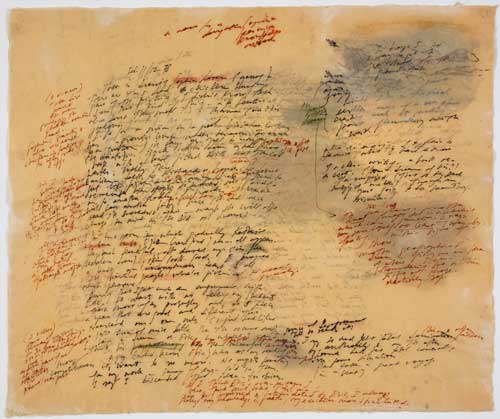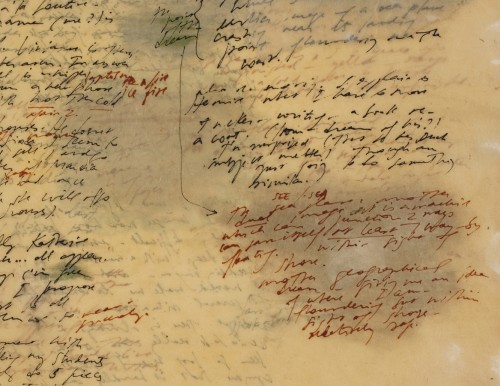 I created a very limited edition color Xerox artist's book in 1979, mostly typing diaristic reflections, artists' statements, and dreams onto pages from a series of booklets I found in Chinatown, Vere Foster's New Civil Service Copy-Books Medium Series, this one #6, from Hong Kong. These were relics of colonial British rule which taught cursive script in a manner and style very similar to the way I was taught how to write, in a French Lycée (a trace of a colonial experience in itself). The series begins with the basic forms of letters and ends with a booklet of sometimes familiar, sometimes esoteric British proverbs and sayings. I called the book Chinatown Notebooks. These were the final two pages.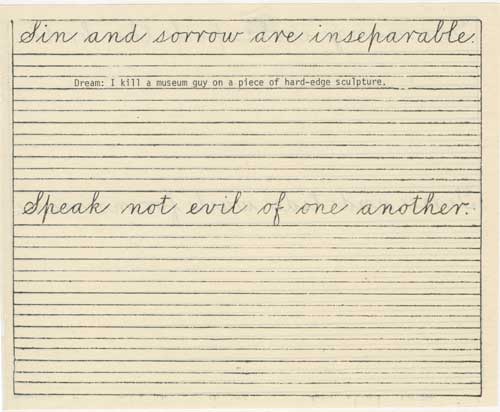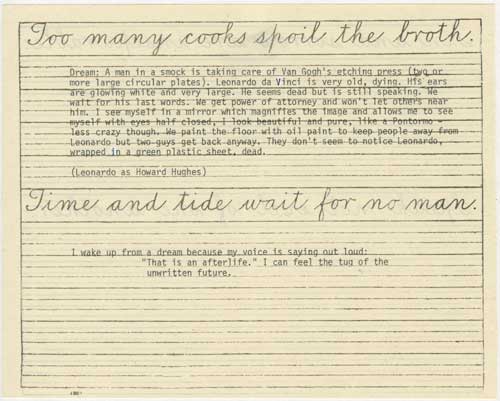 The last image reproduced is My Dreams Are Emptied Out, an ink on gesso on linen work from 2011.