My first post on A Year of Positive Thinking was published April 28, 2010. In "Looking for art to love in all the right places" I teased out the different ways one can fall in love with an art work, as opposed to a person. My first project was to go out into New York city galleries in search of art that I love, in keeping with the goal of the blog, which was to turn my attention to the art work that sustains and inspires me, in contrast to the works with which I have engaged in equally vital though perhaps more "negative" polemical battles in many of my other writings.
As a friend said, well, that lasted about two weeks.
It's true that it has not always been easy to stick to the positive though as I point out in the "About" page of this blog:
A Year of Positive Thinking may turn out to be a battleground between the two sides of my personality, something like Cassandra and Pollyanna! Cassandra tells truths no one wants to hear and Pollyanna actually does the same thing: she's not the sweet cloying character we think of when we use the name in a disparaging way, she looks right at what she sees in the dysfunctional little town she has come to live in and her engagement with the people she meets sets in motion positive change.
I have published fifty-two posts in two years and I intend to continue for a while longer, although other writing projects I've been germinating may claim my attention. The year of a positive thinking is a metaphorical time frame.
Publishing a blog allows for instant communication but it also fosters instant oblivion, in a way that a book does not. I hope this table of contents featuring about thirty-eight posts will help give a sense of what I have done in these past two years, essentially writing another book, one which despite the availability of the material on the blog's archive, I would love to sometime see published in hard copy book form, a form which I think still has a gravitas and a usefulness that online material does not.
Trying to find an order of subject matter is hard because the blog format, with its capacity for links and pictures and the web's orientation towards  a more diverse range of writing than the strictly or even partially academic has fostered my already marked penchant for associative thinking. Also, parenthetically, blog publishing allows for the immediate accessibility through links of material that in a book would be consigned to the endnotes and left to the reader's enterprise to delve into further. And the writing style of the blog posts owe much of their tone and flavor to the kind of more personal and informal writing that I enjoyed salting away into the endnotes of my books. Whereas my two books each focus pretty evenly on feminism, painting, and teaching, the blog has given me the opportunity to comment on political events, write about film, delve into personal memory, and occasionally veer towards the photo essay. In keeping with this fluid, infinitely connected textual and visual frame, this table of contents of blog posts will put specific posts into more than one section when it seems relevant, in order to be true to the content and to connect to the most readers, true to the web environment of samplers, and surfers, and multi-taskers, and Google and Wikipedia addicted readers of this time. Within each section, the posts, linked for instant accessibility of course, are listed in chronological order with a little summary of the subject and an occasional excerpt. This table of contents does not contain links to named people and events, these exist within the posts themselves.
Preface: "About"
Introduction: Looking for art to love in all the right places (April 28, 2010)
I've fallen in love with many more artworks than I have men and without giving anything away I'd have to say that I've had better luck with the artworks I've loved and even the ones I've hated. No painting I've ever seen was married or loved someone else, or got in the way of my need for independence or solitude, and if I've tired of a work, having taken from it all that I needed and then outgrown it, the parting has always been amicable with the possibility of hooking up again always open to me. Meanwhile, and you can fill in the personal analogy or not, I pay a lot of attention to works I really dislike and get a lot of energy for my own work as a result.
Feminism:
Two posts were directly related to the Modern Women project at MoMA, including exhibitions and conferences:
Stealth Feminism at MoMA (May 16, 2010)
On gradually realizing during a random visit to the museum that individual works by women artists and small shows of works by women artists were scattered throughout the museum, like treasures in a treasure hunt that has not been advertised as such.
MoMA Panel: Art "Institutions and Feminist Politics Now"  (May 23, 2010)
A recap of a day of panel discussion held at MoMA, held May 21, 2010, as part of their Modern Women Project.
According to Roxana Marcoci, Curator, Photography, these curatorial discussions and initiatives emerged from a desire for greater transparency within the institution; she described the participants' organization as non-hierarchical and cross-generational. The nature of this feminist work had forced departmental boundaries to be breached as researching work by women forced a greater transdisciplinarity. …

This question of permission is both the positive and negative side of the whole story: better to get the permission — which can only come from an activism brewing from below anyway — than not get the permission. But any freedom or rights based on patriarchal noblesse oblige or realpolitik can be withdrawn when it serves the institution, which is why continued vigilance and activism are always necessary. Some might take issue with the idea that it is better to get that permission and get some feminist action in a dominant institution such as MoMA but I think it all has to happen all over all the time and over and over again (over and over because feminism has tended not to have a good institutional memory, even if you take into account that we live in an ahistorical time).
A Great Artist (on Louise Bourgeois) (May 31, 2010), written the day Louise Bourgeois died.
Sometimes an artwork hedges its bets, or, by some minute concession to accessibility, in some tiny betrayal of form, apologizes for itself. I never detected that in Bourgeois's work.
Stephan von Huene, Feminist Teacher (September 4, 2010) written about my mentor at CalArts, with whom I studied after I left the Feminist Art Program.
Biographies of Women Artists: Instinct and Intellect  (July 10, 2011) Some thoughts about Lee Krasner, on the occasion of a New York Times book review of Gail Levin's biography of the artist.
"I'm 27 and Unmarried…" 40 Years later  (October 10, 2011) I use a piece written by my sister Naomi Schor for Glamour Magazine in 1971 to reflect on the early years of the Women's Liberation Movement and how some of contradictions and societal imperatives of that time may still exist despite many advances for women in the United States.
A Feminist Correspondence  (December 9, 2011) This post republishes my appreciation of British feminist art historian and psychotherapist Rozsika Parker from November 22, 2010, with a more recent quite extraordinary correspondence this post initiated, between me and Parker's collaborator, the art historian Griselda Pollock.
In your blog you rightly captured what it was that Rosie gave us and me in terms of making me a feminist writer on art: that things mattered deeply and seriously and that art touches on things that matter to us as we live them. That was what saved me from a bloodless and remote art history which i still cannot inhabit. (G. Pollock)
Women Artists:
Since there is much contestation over the designation feminist and in order to make access to posts about individual artists easier, I thought I'd create this separate category, of the notable posts on specific women artists.
Looking for Art to love–MoMA: A Tale of Two Egos (May 8, 2010)
Marina Abramovic: The Artist is Present is itself a tale of two egos: downstairs, that of the individual living woman whose body you can witness and potentially engage with at some level, and, upstairs, the projected ego of the woman who has hijacked curatorial common sense, whose many incarnations are screaming at you in an unpardonably cacophonous, unedited installation, who has created a kind of Disneyworld of the Spanish Inquisition through her use of re-enactors in stressful situations while rewriting the history of performance art so that she exists sui generis, without any historical context.
A Great Artist (on Louise Bourgeois)
A Remembrance: Sarah Wells (June 6, 1950-June 6, 1998) (June 6, 2011) On the work of a wonderful artist and a wonderful person, a dear friend exactly my age, who died too young, on her birthday.
Biographies of Women Artists: Instinct and Intellect
Art (painting and sculpture):
Reality Show: Otto Dix  (June 28, 2010) I'll let one of my readers sum this one up:
I'll confess, when I saw the tweets start flying about Mira Schor's essay on Otto Dix, Greater NY, and Bravo's Work of Art, I was skeptical. How the hell was she gonna fit any of those, never mind all three–at once–onto a blog called A Year of Positive Thinking?

By gum, she pulled it off.
Otto Dix, a brief footnote: drawing and ideational aesthetics (July 5, 2010)
Under the circumstances, I was struck by the speaker's use of the word "ideation" as a substitute for the word drawing. It stuck in my head partly because it is sort of a cool word, with its pseudo-scientific and vaguely military/corporate buzz. On the other hand it's somewhere between annoying and sinister in its implications to art making.
Postcard post (August 8, 2010) In this set of virtual postcards to my readers, I write about some of my favorite works of art and works of popular culture, including Andrea Mantegna's The Dead Christ, the sculptural program of the North Portal of Chartres Cathedral, Giotto's frescoes from the Scrovegni Chapel, Star Trek, and Buster Keaton.
Anselm Kiefer@Larry Gagosian: Last Century in Berlin (December 24, 2010)  The forcible eviction of a few peaceable demonstrators by the NYPD from the Kiefer exhibition at Gagosian Gallery in December 2010 was the spur to consider aspects of this body of Kiefer's work with its inflated production values and questionable arrogation of Judaism.
Above the entrance of a vast space occupied by a German were letters written in black script. In transliterated Hebrew and English, they spelled out "Next Year in Jerusalem," the concluding line of the Passover Haggadah. Next Year in Jerusalem? My hackles were officially raised even before I turned the corner and entered the occupied territory of Gagosian Gallery. I still don't really want to write about Kiefer, so here is just a précis. The installation reminded me of nothing so much as Bloomingdales's cosmetics floor if its Christmas decorations had a Holocaust theme.
The fault is not in our stars but in our brand: Abstract Expressionism at MoMA (October 3, 2010)
This led me to think about the work through the lens of the Brand. At first this seems to contradict approaches to art-making that are characteristic of the period, such as the picture plane as the arena of existential search. But of course most of the artists in the first two generations of Abstract Expressionism became known for a particular stylistic brand: drip (Pollock), zip (Newman), stroke (de Kooning), chroma (Rothko). Here then are some major case histories from the main exhibition.
Money can't buy you love but art friendships can create joy (February 6, 2011) This post, about the exhibition "Poets and Painters" at Tibor de Nagy Gallery last winter, allowed me to consider the joyful and creative network of friendships among artists including Rudy Burckhardt, Yvonne Jacquette, Edwin Denby, Alex Katz, Mimi Gross, Red Grooms, Joe Brainard and Ron Padgett, John Ashberry, James Schuyler, Frank O'Hara, Jane Freilicher, and Larry Rivers, among others.
There is a particular kind of collaboration among artists who are friends that is special because it takes place outside of the frame of the art market, often before each individual's path is fixed and their fate is determined, that is before some become rich and famous, while others struggle along, and still others die or vanish from the scene into another type of life than the one of the artist. Such moments are nearly impossible to sustain, but it can be pretty conclusively proven that these are often the happiest times in the lives of these artists and often too those artworks that later are seen to have the greatest market value emerge from just these moments of friendships and creative projects undertaken in relative conditions of anonymity, for the sheer joy of making and the pleasure in shared ideas.
Wonderment and Estrangement: Reflections on Three Caves, parts 1 and 2 of 3  (July 28, 2011) & part 3 (August 18, 2011)  A consideration of three caves, the Chauvet-Pont-d'Arc cave featured in Werner Herzog's Cave of Forgotten Dreams, the cave inside a malachite mine deep in the Ural Mountains featured in a 1946 Russian children's movie The Stone Flower, and the cave whose entrance lurks in the shadow of Giovanni Bellini's St. Francis in the Desert, which was on special display at the Frick Museum in New York last spring.
You may once have had experiences of wonderment and delight, perhaps most uniquely in childhood, in your imagination, reading a book, hearing a story, or seeing something of incomparable beauty. You'd think being an artist would give you continued access to such experiences but for the most part life as a professional artist is at best a negotiation among the constantly changing realities of contemporary art, the limitations of one's own abilities, and some internal core ability to still experience such wonderment when it presents itself, despite competitiveness, jealousy, and the infrequency of such experiences. Basically we once experienced wonderment and now we do the best we can. So when we do on rare occasions experience wonderment or delight, it is notable, and for a moment we may return to the prelapsarian intensity, awe, and joy first experienced in childhood and which is part of the secret fuel for a lifetime of art practice.
Art of the Occupy Wall Street Era (October 12, 2011) On Creative Time curator Nato Thompson's exhibition, Living as Form
Youthfulness in Old Age (December 8, 2011) On expansive creativity in old age, exhibitions of  later works by Joan Mitchell, Richard Artschwager, and Matta.
You put a spell on me (January 1, 2012) on two extraordinary exhibitions at the Metropolitan Museum of Art, The Renaissance Portrait from Donatello to Bellini and Heroic Africans: Legendary Leaders, Iconic Sculptures.
As a teacher, I'm interested in how one can use art or artifacts that may seem inaccessible or irrelevant because they were made in ancient or foreign cultures seemingly alien to our own and also because works like these African sculptures or Renaissance paintings seem to have already been digested, for once and for all by our own history, so that our ability to use them appears doubly blocked. How do you use old art? How do you use any great art while not sinking into preciousness?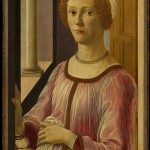 As a sub-theme to this section, one thread that runs through several posts is the importance of drawing as a way to apprehend the world. Several posts feature my love of drawing, including works by Philip Guston and Otto Dix, and the importance of drawing to my own art practice becomes a practical tool to circumvent institutional prohibitions of photography in special exhibitions, in posts such as Otto Dix, a brief footnote: drawing and ideational aesthetics, Looking for art to love in all the right places, You put a spell on me, and a post about The Mourners at the Metropolitan Museum, Looking for art to love, day two: uptown from May 1, 2010.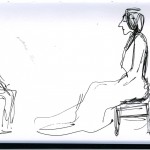 Politics:
My Whole Street is a Mosque (August 19, 2010)  This piece was written when there was a media furor over the plans to build a mosque near Ground Zero and it occurred to me how absurd this was when the street that I lived on in Lower Manhattan, Lispenard Street, effectively was an outdoor mosque, when men pray on the sidewalk several times a day. This blog post ended up on The Huffington Post and was one of my few experiences with going viral, in a very modest way.
Confessions of a Yellow Dog Democrat (October 21, 2010) Attempting to reconcile my own profound disappointment at the timidity of Democratic party politicians with the reasons I could for many years call myself a "Yellow Dog Democrat," I tried to cram as many references with as many links to as many great moments in American history, some which I witnessed, some which I already experienced as legendary, as I could, in order to give younger readers a sense of why anyone would still identify with a political party or regret no longer identifying with it.
This Past Week in Activism: Three Modest Gestures (December 12, 2010) How Manet's The Execution of the Emperor Maximilian of Mexico, 1868, at the National Gallery in London, becomes a potent witness for a teach-in of students protesting the tripling of educational fees by the Cameron Government, and other valiant political gestures.
Should we trust anyone under 30? (with some excerpts from "Recipe Art" and other essays (June 20, 2011) Concerns about generational reversals, as observed before Occupy Wall Street.
Somebody Had to Shoot Liberty Valance (September 18, 2011)  The relevance to our current political dilemmas of John Ford's late masterpiece The Man Who Shot Liberty Valance, a starkly simple, cinematically almost archaic yet profound meditation on the role of violence in creating the American democracy and on the nature of history itself.
Art of the Occupy Wall Street Era
A Discussion on Facebook About "Occupy Museums" (October 19, 2011) A topical example of the kind of Facebook discussion thread which at its best is a new form of group authorship. Bonus: photos of a 1984 demonstration outside the renovated MoMA to protest the lack of women in the inaugural exhibition.
"Books are like people" (November 15, 2011) The destruction of the People's Library by the NYPD seen through the lens of art historian Leo Steinberg's  remembrances of the signal importance of books during his childhood as a young refugee in Berlin and London.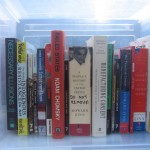 Teaching:
All my writing is an extension of my deeply felt vocation for teaching but some texts specifically address conditions and specifics of teaching art.
Teaching Contradiction: Reality TV and Art School (August 27, 2010) On contradictions that exist within the expectations placed on artists studying in MFA programs around the country, as suggested by the end of the first season of the Bravo Network reality show "Work of Art: The Next Great Artist."
While working on a syllabus on a winter's afternoon (January 17, 2011) Listening to "A Beautiful Symphony of Brotherhood: A Musical Journey in the Life of Martin Luther King, Jr.," while planning a syllabus including works and writings by Guy Debord, Michel de Certeau, John Cage, and Simone Weil (& see also Should we trust anyone under 30? to learn more about what happened in that class.)
Film:
Magic Tricks in the Dark (May 14, 2010), on William Kentridge's installation of 7 Fragments for Georges Méliès
In the Wave (May 20, 2010) a comparative appreciation of the films and the artistic friendship of Francois Truffaut and Jean Luc Godard, inspired by Emmanuel Laurent's documentary Two in the Wave.
Money can't buy you love but art friendships can create joy  This post includes an appreciation of Rudy Burckhardt's films including Money, (1967), his first feature film of his 200 or so films, with script by Joe Brainard, about a money mad billionaire played by Edwin Denby, a film which combines a goofy, spontaneous home movie feeling (with actors including the artists Red Grooms, Mimi Gross, Yvonne Jacquette, Neil Welliver,  Rackstraw Downes, as well as these artists' children, Jacob Burckhardt, Titus Welliver, and Tom Burckhardt–now all adult artists engaged in film, acting, and painting).
Somebody Had to Shoot Liberty Valance
Wonderment and Estrangement: Reflections on Three Caves, parts 1 & 2 (July 28, 2011) a post inspired by Werner Herzog's film Cave of Forgotten Dreams and my rediscovery of the 1946 Soviet era children' film, The Stone Flower.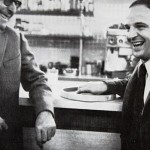 Conditions of Writing a Blog:
Three blog posts from the summer of 2011 examine the conditions of contemporary web publication and readership, centered around instant readership tracking mechanisms such as Google analytics, and their effect on what gets written about, and the increasingly compressed time available for elucidation of artworks and events, in relation to earlier forms of hard copy small journal publications, with a post devoted to two essays by John Berger, "The Moment of Cubism" and "The Hals Mystery."
Invisibility and Criticality in the Imperium of Analytics (July 31, 2011)
The Imperium of Analytics (August 2, 2011)
The Berger Mystery (August 11, 2011)
Family:
These texts form the nucleus of one of my next book projects, an artistic autobiography into which I would fold my parents' lives and artworks.
For Father's Day: Ilya Schor (1904-1961) (June 18, 2010), a celebration of my father Ilya Schor's work, featuring some small paintings made in Marseilles, France while my parents awaited a visa to America.
"I Love You with All My Hearth" (December 5, 2010) an appreciation of my mother Resia Schor's work, published on what would have been her 100th birthday:
That my mother as a person had sought economic survival through her own aesthetic labor was already a lesson in feminism for me and my sister. And, as she developed her own style and techniques in her new medium, it became intriguingly clear that my parents' work embodied a strangely crossed gender art message that in itself contributed to my sister Naomi and my involvement with feminism and perhaps too to the slightly unusual flavor of our feminist outlook. Inasmuch as art movements are gender coded, my father's work — folkloric, figurative, narrative, Jewish, delicate, light in weight — carried a feminine code. My mother's work, abstract, muscularly sculptural although still relatively small in scale but heavy in weight carried a code that would seem to be masculine, as those terms are used.
"I'm Unmarried and Single…" 40 Years Later (October 10, 2011). On my sister Naomi Schor's birthday, I begin a task I hope to continue, of writing about her via the magazines she collected over the years, to address her intellectual life through the popular culture she loved and the political events we lived through together, rather than through her notable work as a feminist theorist and scholar of French Literature and psychoanalytic theory, a body of work too daunting for me to address effectively.
Orbis Mundi (April 24, 2011) An essay prompted by a major move and the resulting intimate contact with my family's archival ephemera and their collection of art objects, including a mysterious ceramic ball with Christian liturgical associations, which lays the path for my future project of writing an artistic autobiography in a photo essay format.
So I have bucked an American axiom, that you can't go home again. I have returned to the building I was born into, and to the beautiful apartment I moved into when I was five–the day I first saw the apartment with my parents, taking the elevator from our smaller apartment a few floors below, is the moment where my conscious memory truly begins. Thus infuriating circumstances have precipitated my taking on part of what I consider my destiny, that is to archive and to mark as best I can the memory of my family's life, particularly my parents' lives in Warsaw and Paris before the War, their escape from Nazi-occupied Europe, and their creative life in New York as the background for the path I have taken in my life as what I would call an inflected American.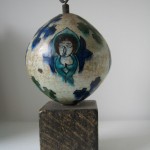 Although it would seem that I should set aside A Year of Positive Thinking in order to more fully develop the project of writing such an artistic autobiography as well as another one of developing my writings about teaching art, while continuing to teach and, of course, do my work, I am reluctant to do so because it is hard to give up any space for public speech, even if, as a self-published blog with a modest readership, I am speaking while standing on a tiny slippery stone in the middle of a vast ocean of media and opinion. So, in the sporadic fashion of the past two years, I plan to continue for a while longer..if anything because even just the goal of looking for art I love, and the occasional discovery of such work, is a lifelong proposition and can only help expand my cultural life as an artist.