Dear Followers of A Year of Positive Thinking:
A Year of Positive Thinking made its debut with a first post, Looking for art to love in all the right places, on April 28th, 2010, so it is about to be two years old this weekend. To celebrate, I will be reading from the blog at my current exhibition, "Mira Schor: Voice and Speech" at Marvelli Gallery on Friday April 27th at 6PM. Please join us.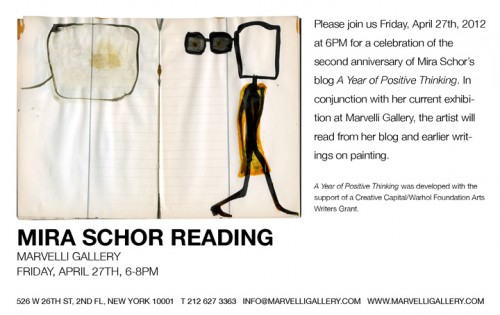 A Year of Positive Thinking was developed with the support of a 2009 Creative Capital/Warhol Foundation Arts Writers Grant. The "Year" is a state of mind, one sometimes hard to attain but always worth seeking, so I plan to continue the blog into a third year.
Thanks for your continued support,
Mira